Hi, Friends! My name is Mac McDaniel. I am Carolyn's husband and she is my best friend! Although a "newbie" to the travel industry, I will be handling outside corporate and leisure sales.
My personal travel experience consists of 20 years in the United States Air Force flying all expenses paid to all sorts of "exotic" locations! After retiring from the Air Force, I have been in retail sales for the past 21 years until Carolyn opened My Travel at Midtown. Now I can be your friend in the travel world.
Being a "natural" in sales, Carolyn decided I would be My Travel's man on the street! I love to meet and talk with people whether it is individuals, couples, groups, or potential corporate clients. My mission is tell "the world" about My Travel at Midtown while building a strong individual, group and corporate client base for the agency.
By the way, Carolyn and I love the mountains of the Southeast, especially The Smokies. We are experts on how to "get away and do nothing." Let us help you enjoy God's beautiful outdoors…anywhere, anytime!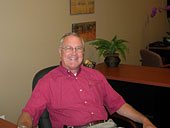 Email:
Phone: (334) 749-0877